Backyard Solutions in Uptown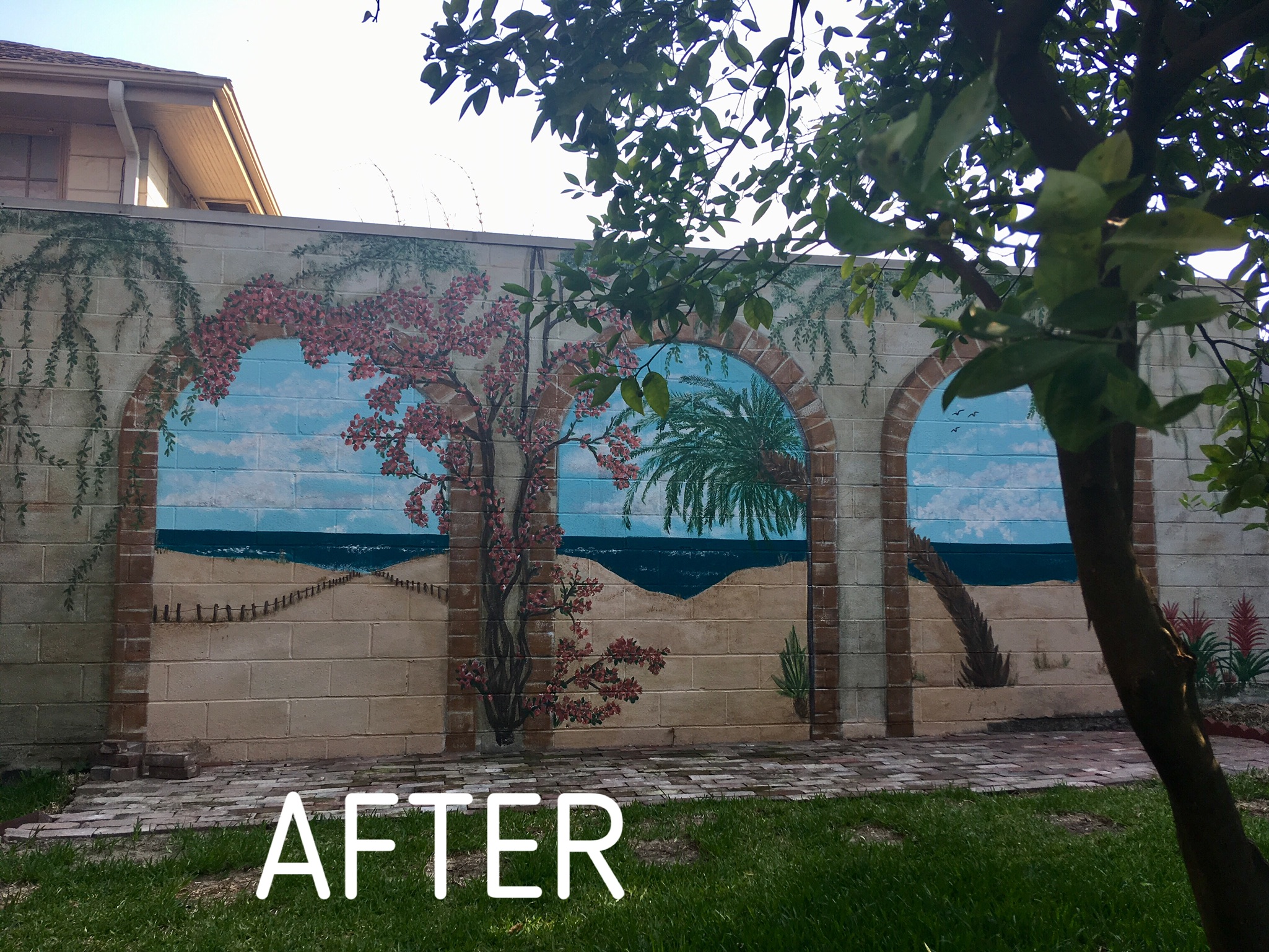 Hi Neighbors!
I wanted to share some thoughts (and maybe solutions) for a few of the challenges we have living Uptown.
When we moved back to NOLA and into our home, there was PLENTY to do, just to be able to live there. But now it's all (well, mostly) done, and we've settled into life in our new neighborhood.
But I'm finding there are a few problems we face here – unique to our area.
The first is… our yard is considered large – but it's still too small for our eight-year-old to throw a ball without the inevitable broken window happening, and we're surrounded by other yards. One entire wall of our yard is our neighbor's garage. And it's UGLY!
Problem #2 is that have not yet put in a pool. The budget is exhausted after the renovation, so for the time being, the yard is not a place we spend much time in. A great shame, because our formerly very active outdoor child is now hooked on video games!
So, we have solved the ugly garage/no-personality problem with a garden mural! I did it myself and I think it turned out beautifully. It's now a window to the beach, and will fit in nicely when we add the pool. Until then… I'm enjoying this "water feature."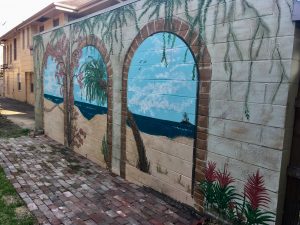 Some of my surrounding neighbors have fallen in love with my wall, so I'm doing them for others now – and my friend, Elizabeth, came up with a genius idea!
We are going to paint her garage-sharing wall (with the neighbor's permission, of course), with a "top-of-the-mountain-looking-down" scene. She's then going to add a zipline and a rock climbing feature to that wall and make it a great place for the boys to get outside and DO something this summer!
I started a suggestion thread on Facebook, and now I've got some other great suggestions… like a hidden garden gateway, with lots of abundant flowers (for those who have no green thumb) and a rolling country hillside, which is always fun in the middle of a city.
Just wanted to share this with y'all since we have so many artistic types here in NOLA. Adding a feature like this will definitely give me something to talk about with buyers when I sell these houses – it's a one-of-a-kind original work of art, plus it's just an awesome way to create magic in a blah space.
And maybe… just maybe… we can entice those kids out into the yard if we let them add a feature or two. Family input is key.
Call me any time to discuss your home's value – even if you're not yet thinking of selling. Your real estate agent should be someone you can call with questions any time – not someone you interview in a panic when you need to make a decision about selling or refinancing.
HAPPY SUMMER everyone!
Anne Beck
504-812-4702
PS – I had an absolute blast doing our mural. Would not mind doing a few more of them, so if you think you'd like one, things will be slower in real estate toward the middle of summer, and I can give you a quote any time, if you don't mind working around my crazy schedule 🙂