Notes from our year in the French Quarter (March 8, 2010)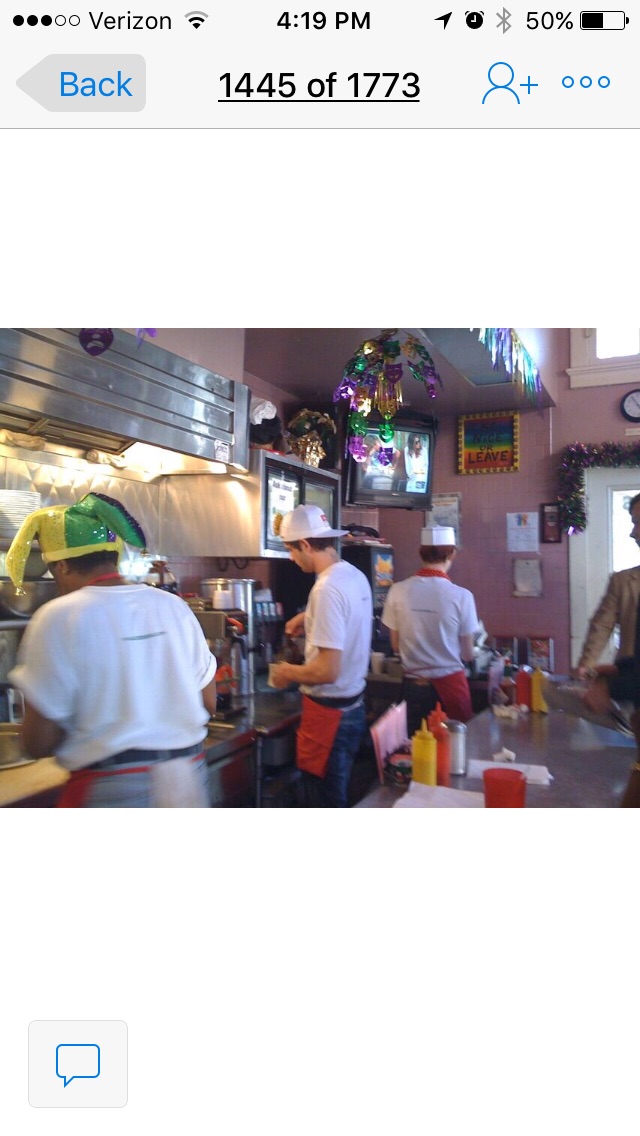 The Bitch at the Grill, The Grouch at the Emporium
Monday, March 08 2010 @ 02:28 PM EST
Views: 2,309
What you probably don't realize about the French Quarter is how easy it is to live here. If you come for a visit, you'll never even know that it's a geniune neighborhood.Within these twenty blocks, there are hundreds of actual residences, hidden behind closed shutters, garage doors, iron gates and other forms of distraction, real people live here – not just Brad Pitt and What's-Her-Name and other millionaires and writers and artists.
(On Kindle: Life, Love and Art in the French Quarter)
The French Quarter is for the outcast, the misfit… and dreamers like us who just want some time off from reality.But my point is, there is regular stuff here. Just within the four blocks that surround our split double on Dumaine Street we have a post office (The Postal Emporium, which sounds better), a grocery store (family-owned Matassa's, they deliver free), a dry cleaners and laundry, a pet groomer, a vet that makes house calls, a hair salon, a drug store and a florist.
Never mind the Bourbon Street bars, just a block away. The last time we walked down Bourbon Street was in May when we had guests… it just isn't part of what we do and see every day now. Life is rich… who needs tinsel?It's like anywhere else. You meet the people who own the stores and the services you use every day. You know the cops. You have your favorite neighbors. You become a "regular" and have "the usual" when you walk into the local diner for breakfast.
So it's home for us this year, and we embrace it as if we were born and raised in this way. It's a good and interesting way to live. We are surrounded by friends, and this leads us to a new game: everyone has to like us. We are determined to know and enjoy every neighbor, so any time we are ignored or dismissed or brushed off by anyone, it becomes a test of wills (us against them) in which we will not relent until the person smiles at us and treats us like they like us.
Still on the list of those to conquer… Cat Lady. Won't speak, ducks out of her third-story window into the house when we look up and wave. Her car (another story!) always has a low front tire, so Bobby even brought an air pump, hell-bent on taking it to her to make her talk to him. So far, no luck.
Also on the list… Old Boy Scout. We'll write more on him another time, but he's an interesting figure, always dressed in camo pants, red shirt, red beret and a backpack. He strides by with quick, military precision each night, always in the middle of the street, back erect and facing straight forward. IF you can get him to look your way, he will raise one arm in an odd two-fingered salute (really a heil-Hitler kind of action) and won't even break his stride. He never smiles. A big reaction is that he forms his lips as if he's going to whistle. He doesn't whistle, but maybe this is his version of a smile? We still don't know, and he ALMOST smiled at me once. He did nod, but he won't do this if Bobby is on the stoop with me. Could he be flirting? Wow. If so, someone needs to explain how it works to him.
Now, about the Bitch and the Grouch.
BRYCE gets ten points each in this particular game, because in both cases, he made 'em welcome him to the neighborhood.
The Bitch works at Clover Grill. We are such regulars at Clover Grill we even know the employees shifts. We know what to order when and who cooks it best… and we know what NOT to order when the little Bitch is working. Bitch is a pretty mullato boy, around twenty years old, very feminine, and certainly the bitchiest queen ever to work on this street.
I don't know if he cross-dresses, but he wears his hair in many braids, then piles them up in a fancy twist. He is delicate. He is beautiful. And he's a bitch. No matter what you order, he will undercook it to the point I would like to nick-name him Sal (short for Salmonella). He cannot cook an egg to save his life. I would love to know how he got (and keeps) his job as a cook in a diner that brags about 24 hour breakfast. Worst of all, he makes a point of throwing little public fits and acting put upon the minute you order anything.
For the last six months, Bobby and I have tried in vain to conquer the Bitch.
Anyone who knows us knows that we are the most charming couple within ten miles. No one can resist us. Seriously. We are loved. If one or both of us decide to charm someone, they are a deer in the headlights. We will not stop smothering them with attention until they invite us to dinner or pledge their first born to us. It's part of our game, and we're damn good at it.
But no matter what we tried… the Bitch continued to give us the cold shoulder. He has glared at us each and every time we sat down at our favorite table, and he has thrown his prissy little hips out of whack doing his little stomp-fit when we continue to insist we want our eggs COOKED.
We've smiled, waved, offered small talk… we've sat at the counter; an in-your-face kind of stalker move that would force him to look us in the eye. No luck.
Two weeks ago, we walked in and – WOW. We looked at each other, disappointed that he was working since we really wanted breakfast, and then heard a squeal.
"Oh my GOD…. look at the BABY," he cried. He threws his hands up, wrists limp and a simpering delight was all over his face. "He's ADORABLE. Oh my GAWD!"
Yes. We had brought in the secret weapon without even knowing it.
We placed Bryce's seat on a diner chair and marveled at our accidental victory. Bryce cooed peacefully, the Bitch cooked our eggs to perfection, and we chalk up one more friendly neighbor on our imaginary score board – at last.
Recommended by Anne: Life, Love and Art in the French Quarter