The REAL New Orleans (June 3, 2013)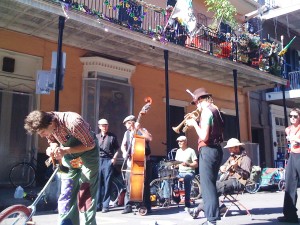 I love that the photos we used on the home page of the website are actual photos of things we've seen and condos we manage here in New Orleans.  No need for stock photography here… our city is a hot-bed of opportunities to catch beautiful things on film.  That's probably why we're such a popular spot for film industry professionals…
But for those of us who just live it and work in it, New Orleans is a personality.  It's like a batty old aunt – some people just can't stand her, and others can't get enough.  It's because she's such a character.
In other "music cities," you can hear amazing bands and acts, enjoy a certain atmosphere, and appreciate the unique quality of life that evolves around the art of sound and vision; but in New Orleans, you don't need tickets.  I love Chicago, but a good blues club has a cover charge and the good stuff happens behind closed doors.  You have to get in…   Same thing in New York.  She's got Broadway and music and class and culture… but seeing R.E.M. at Madison Square Garden is an organized event.  Assigned seats.  Yuck.  Seeing R.E.M. at Voodoo Fest – it's bare feet in the grass, ant bites, sweating in the evening heat, bumping into the neighbor on the blanket next to you in the park… It's raw and pulsing in the night.  Even the poorest citizen can stand on the sidewalk outside and enjoy the immediate-ness of the outdoor concert.  And here, Michael Stipe will walk into the audience like an old friend and sing something he wrote when he was a teenage punk, staying on the streets in New Orleans, writing it all down.
So it is with everything here.
Stand outside the door of any bar on Bourbon Street and get an icy blast on the July street from the open doorway.  Canned or live, the music is yours, and it's free.  Go inside or don't.  It belongs to the streets and the people…
That's the difference, for me, between New Orleans and any other place that claims to love the arts.  Ours are on the sidewalk, under the bridge, in the park, through the open doorways.  There is rarely a door or a ticket closing anyone off from the source… it just floats.  And we breathe the thick air like creatures who live under water, and those who visit learn to breathe like that, too.  Inhale trumpets, exhale sax.
Some like it, and some don't.  Some evolve and learn to swim in the sticky air we call home.  Others don't.
We're okay with that.