Wood Project: Tarot Card (The Sun) on Birch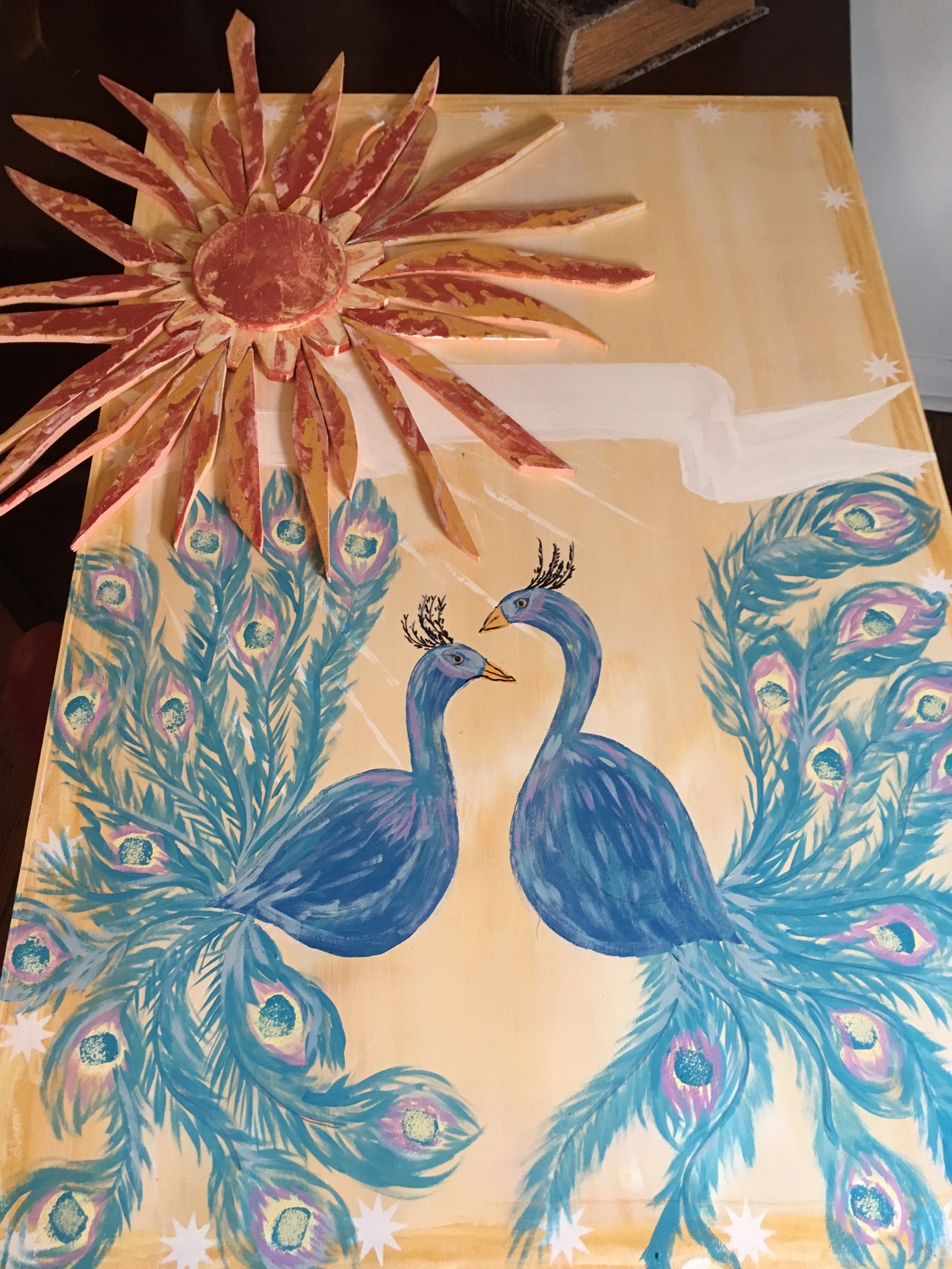 I've been fascinated by tarot cards ever since I was a kid. Maybe because they were mysterious and forbidden, and maybe just because they are drawn by artists with all different interpretations and themes – they are simply beautiful.
And although I've studied tarot and given up on having any mastery of reading the cards, I still can't get them out of my head, and if there's one thing I know: The Sun is the ultimate happy, lucky card – full of good fortune, enlightenment and happy outcomes.
So I've drawn The Sun card many times, and recently got nudged to think about The Sun again. I was working on some wooden lawn decorations for Christmas, and our lamp posts had to be cut from large pieces of plywood. There was a lot of waste, and lots of strange curved pieces of wood littered the floor of the garage when we were done. They looked just like sun rays… and I threw them into a bag, thinking I'd use them "somewhere."
Sure enough, I couldn't get them out of my head. I've been working a lot with chalk paint lately, and thought the wood sun rays might be the beginning of a beautiful piece of art – a wooden dimensional painting of The Sun card, done in chalk paint.
My favorite thing so far is the way the sun core and the rays look like reclaimed barn wood or something.  I've been painting a vivid color on the base coat, then putting a rather thick, uneven layer of a color called "Lace" over that.  I let both layers dry over night (chalk paint dries very quickly, but if you're going to sand it, it can be damp underneath and make a smeary mess when you sand).  Then I used a detail sander to "scuff it up."
I did the same on the board I used for the mounting base of the whole project.  This part was sanded very lightly by hand, not as roughly as I handled the sun rays.
Last, the peacocks and the banner (which will say, of course, "The Sun") will be detailed with chalk paint, then the whole project will be sprayed with an aging ink, very lightly, to create an antique look.  I want it to look like my real tarot cards, which are quite old.
I've used wood glue, very sparingly, to attach the sun core and the rays, because seepage looks terrible.  This piece will have to be handled very carefully when hung, and (hindsight), when I attach the hanging hardware.  I should have done that first – lesson learned for next time.
I'll be working on this and will upload a picture of the finished creation soon.  If you'd like to see it and be reminded to check back – register for updates – I promise, I'll never spam you!
Anne Beck,
Editor, Creator, Tarot card collector
(Oh, and for my "real job," I am a real estate broker, and I do free staging for sellers with my listings – it really helps you get top dollar for your home!)   www.nolasinc.com