Inspired by Costa Rica – Bringing it home to NOLA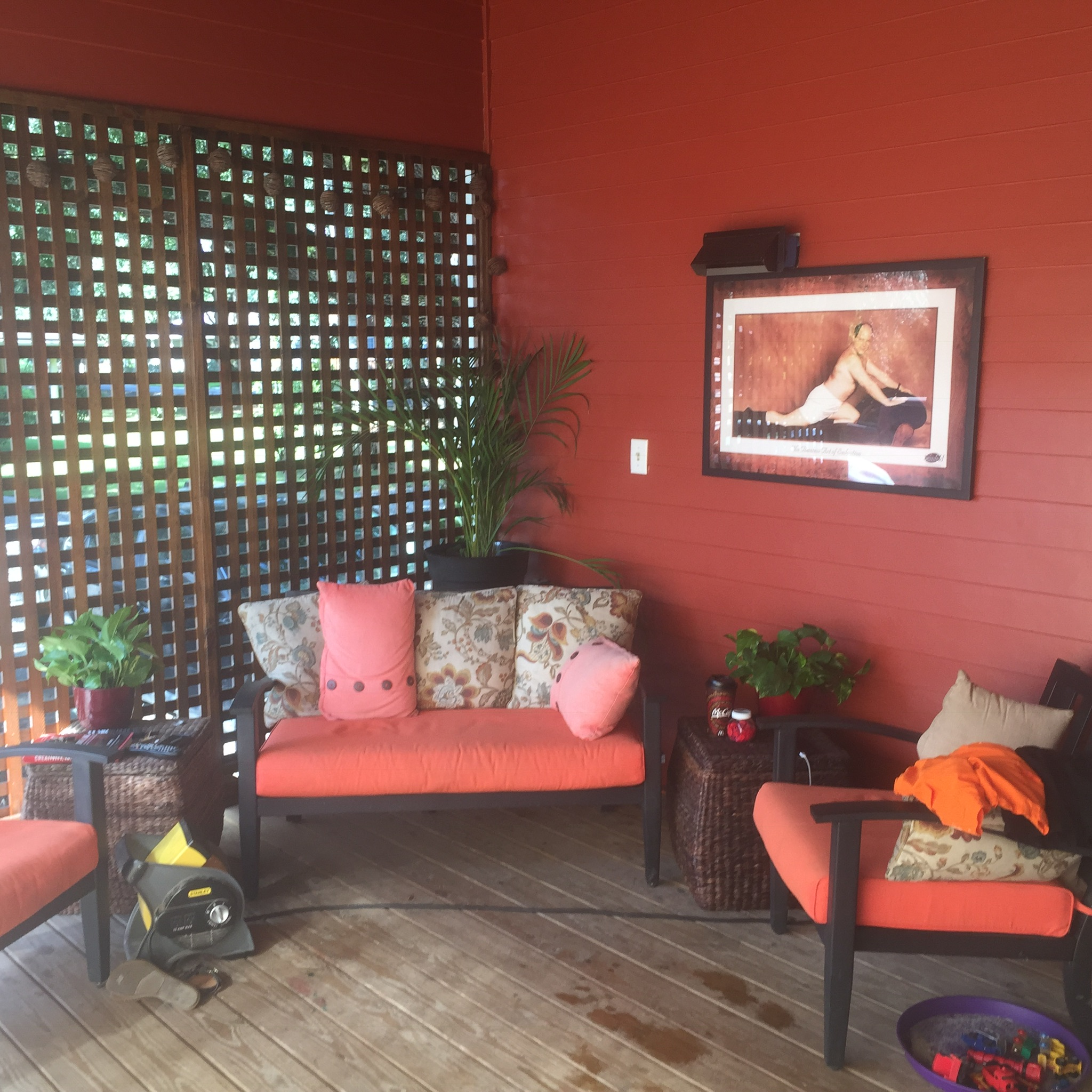 It's strange how the mind works… memory can be tied so much to atmosphere, and what we create around us is often based on a memory that brings us joy.
Bobby and I took a much-needed vacation a few years ago to Costa Rica, and just completely took our chances without a travel agent, booked our stays on AirBnb, rented a car, and with a bit of research and reading found the best two cities on the coast.   It was the best trip ever – and we ended up bringing it home.
Around the time we took that trip, Bobby was beginning to add a covered back porch on our house in Destrehan.  It had all the great bones he prides himself in, a bead-board ceiling, outdoor fans, hookups for the eventual outdoor kitchen, then a latticed area that really began to change the way it felt.  Just the unique square lattice (not the usual horizontal kind), turned this porch into a cabana, of sorts.
The vivid terra cotta color we painted the wall on the porch became the inspiration for an entirely new exterior color scheme… and then the furniture was added, then – curtains.  More and more we realized that the live plants, the exotic colors, the cozy, comfortable style of it all reminded us of places we had stayed in Tamarindo and Manuel Antonio.  There's an indoor/outdoor feel to the space, and it's a very satisfying feeling to be so comfortable outdoors – and still enjoy fresh air. (And of course, there's the gift from my sister-in-law on the wall… George Castanza, from Seinfeld).
That was a hard porch to leave…  we now live Uptown and have no covered porches at all.  We have an open balcony upstairs, and will eventually build a covered porch across the back of the house; but our Costa Rica porch was our hangout every single day after work, and we're a little bit wandering around at the new house, trying to find "that space" again.  I think we have to build it ourselves, because it just doesn't exist right now.  We are lost.
In the coming months, our back yard in Fountainbleu needs to be completely redone; we'll be adding a pool, a back porch, a garage, and the list goes on – probably always will.  Because Bobby and I create by building and designing and decorating things, guided by the way certain places make us feel.
I think our master bath will end up extending to the outdoors, with a section of it open to the sky, shaded by palm trees.  Nights in Costa Rica under the stars included indoor/outdoor showers, and I have a feeling we're not done with that just yet.
Anne Beck
Sentimental Designer and believer in living scrapbooks.