Went on down to the Audubon Zoo… and stayed on Monkey Hill!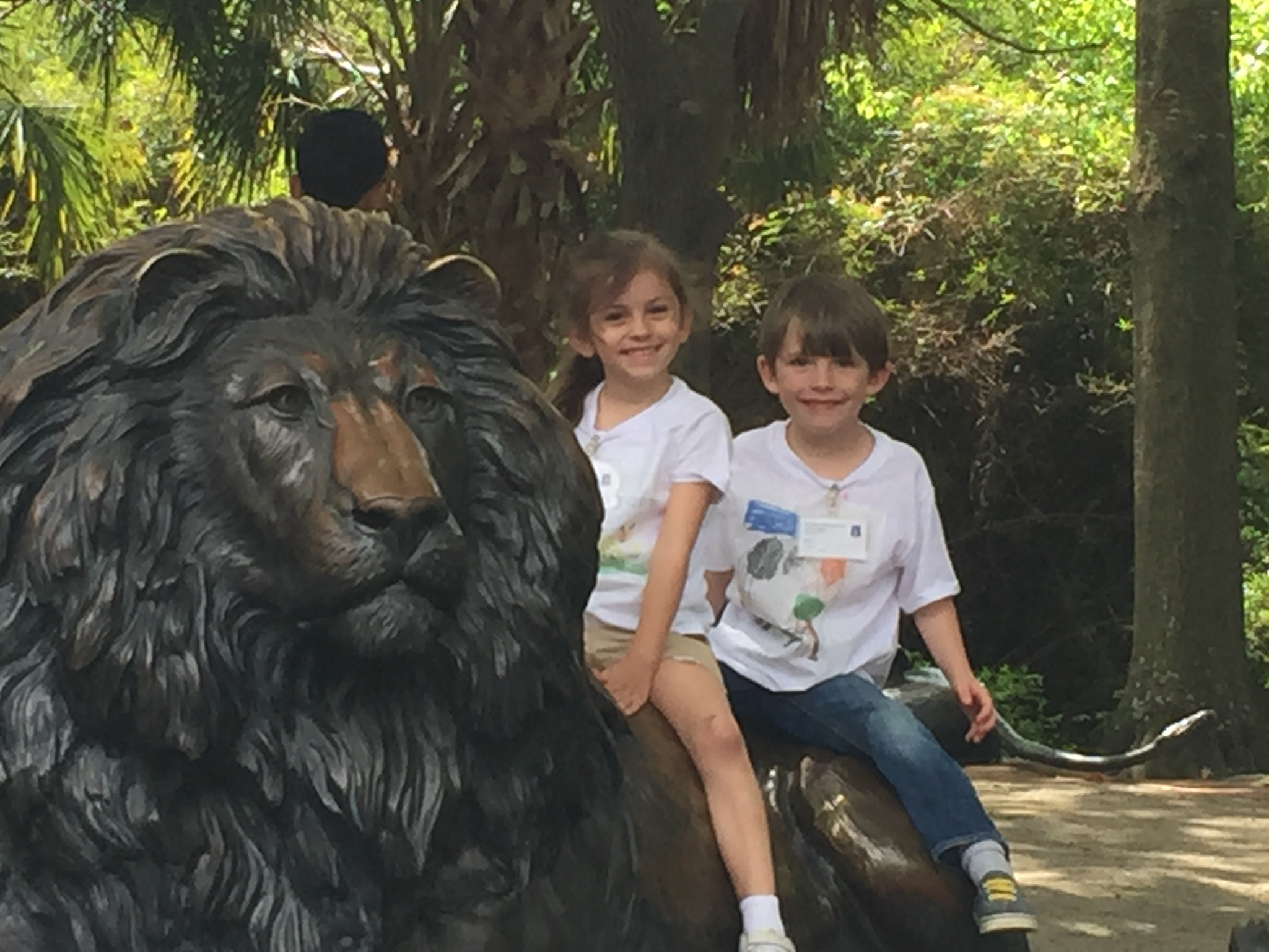 Several years ago, my son Bryce's kindergarten class went to Audubon Zoo on a field trip. Now that the zoo is right here in the neighborhood, Bryce has lots of favorite spots, but that particular day… it was all Monkey Hill.
What is Monkey Hill? A leftover pile of dirt, according to this article on NOLA.com, celebrating Monkey Hill's eightieth birthday!
Apparently the pile of dirt resulted from digging the 1,200 foot lagoon, which now forms the waterways that run throughout the Audubon Zoo. The excavation of an area which was formerly a city dump was just full of junk. Eventually, the pile of junk became a feature of the park and a New Orleans landmark – the highest point in the city – at one time higher than the highest point of the levee. It was joked that New Orleans children would be able to say they had climbed a "mountain" because of this feature!
Whatever its origins, Monkey Hill is a great respite for zoo visitors; in particular, parents. With a meandering stream coming down the hill, lush overgrowth and tons of climbing space, the kids can stay busy here for hours without any (gasp!) entertainment provided by anything but their own imaginations.
Countless times the kids will run up and down, around the grassy hill, then do it again. And again.
It's shady, peaceful, full of gurgling water and the swishing of palm leaves in the breeze. Sounds jungly. And no one ever minds taking a quiet (sort of) break here after trekking through all the animal exhibits. It's a big zoo – lots of walking.
So that day, the kids did the usual zoo thing. Elephants, giraffes, alligators, birds… all that. Don't get me wrong – they loved every minute – but we were only halfway through. Then they found Monkey Hill.
We never made it any further. The kids flocked to the hill and were busy for hours. They played hide-and-seek, cowboys-and-Indians, cops-and-robbers… spied on tourists, made a lookout; then discovered the gracious live oak across the way. And for even longer, they lined up on its branches, climbed, tight-rope walked and made up tales for each other, long into late afternoon.
The Moms loved Monkey Hill, too. While the kids ran off their excess energy, we enjoyed the shade, talked, kid-watched and laughed as a young couple (first-timers, obviously), allowed their toddler to pick up a wild baby turtle, then quickly wiped his hands with disinfecting wipes. Ugh. Turtle germs. We watched our kindergartners grass-staining their play clothes and intaking a good amount of dirt; then went back to talking.
The historic hill (or trash pile that's been grandfathered in as an iconic sight) was the best part of the day.
Now my son would rather go to "The Fly" and throw a football when we're near the zoo, but Monkey Hill is, and will always be, a city treasure where local kids will play and grow, and be able to say they climbed a mountain.
Anne Beck
Lover of Monkey Hill at Audubon Zoo