Halloween in NOLA… It's kind of a Big Deal.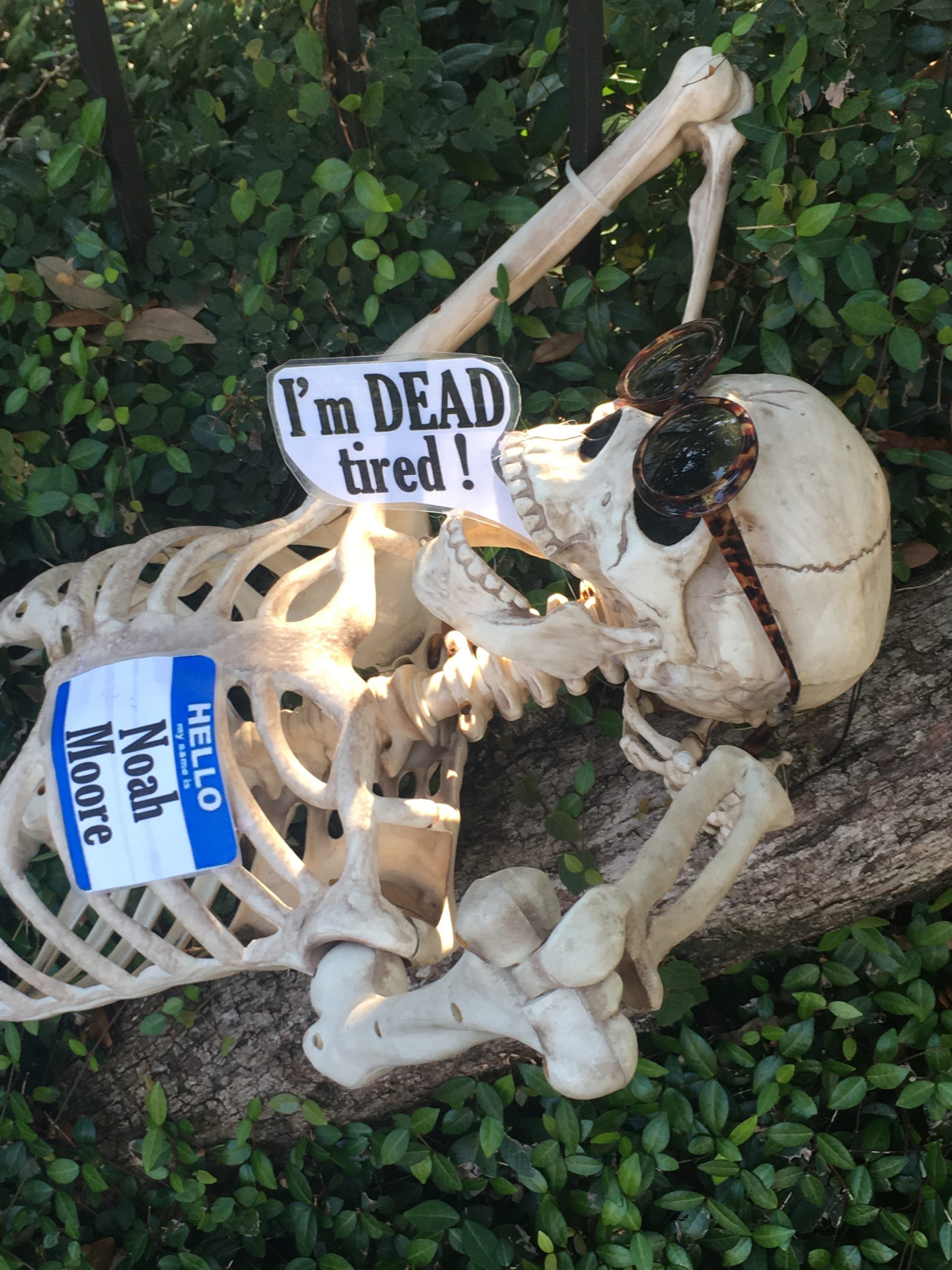 Even wearing shorts and panting our way through the streets, we could tell fall had REALLY arrived when the State Street skeletons went up.  It's a landmark day each year, and it happens overnight, via some NOLA magic.  There must be forty different skeletal personalities in this yard – such a stately home, so serious throughout the year… then this.
It's Halloween, friends!
I'd say we're kicking off the holiday season… but really, we have some sort of holiday happening every week in New Orleans; so let's call it the fall/winter holiday season.  And Halloween is a big deal.
On the news this morning, occupancy rates in all the downtown hotels are at 98% for Halloween.  The skeleton house above has packed sidewalks every day now – it's not just us – it's tourists and sightseeing tour buses, and visitors from all over.  They can't get enough of the sarcasm and ghoulish satire New Orleans provides.  We're good at that stuff, and Halloween is the perfect showcase.
So, I just wanted to share some important facts, to help you acclimate to how this is done.
 We do not change Halloween night to a convenient weekend evening to accommodate school schedules, travel time, or whatever.  We trick-or-treat on Halloween night – rain or shine.
If you're not sure where to go with kids… here's the treat map, compliments of your neighbors on NextDoor.  (Get this app!  It's the most awesome way to know what's going on in your 'hood).
New Orleans is in the top 10 national trick-or-treat cities in the US.
Apparently, each street competes for trick-or-treaters by trying to have the creepiest and most enticing Halloween decorations.  I can vouch that throughout Uptown… it's transformed.  Tricky to see in the daytime, because so many houses have black iron railings all around.  You have to wait until night, then you'll see all the spiders glowing, ghosts floating eerily in the oaks.. and truly haunting images in the darkened windows.   Yikes.
Second Street, between Magazine and St. Charles, offers pet trick-or-treating.  It's set up for our four-legged friends, but neighbors with kids tell me it's the best kept secret spot for kids, too.  (Not as crowded as State, but like being transported to another place with all the decorations and props).
There are 10 different festivals going on this weekend, and of course, a Halloween bar crawl.  How could you not?
Sunday the Saints play the Bears, so we've got lots of tourists in town already – but as a host of vacation properties, I have inside knowledge… this weekend is not about the game.  It's about the spirit of the city.
Yes, I meant spirit literally this time.
Enjoy!
Anne Beck
Real Estate Broker, Blogger, Mom and huge fan of Halloween in New Orleans!
And for some totally fun Halloween gear for those "free dress" days at work and school:

Mens New Orleans Jack O' Lantern Pumpkin Face Halloween Shirt XL Black

Kids The Scariest Pumpkin In New Orleans Halloween T-Shirt Funny 12 Navy

Kids New Orleans Halloween Scare Boo Gift T-Shirt 4 Orange

New Orleans Halloween Tee for Men Women Kids and Toddlers