New Orleans… You have an OBLIGATION to shine.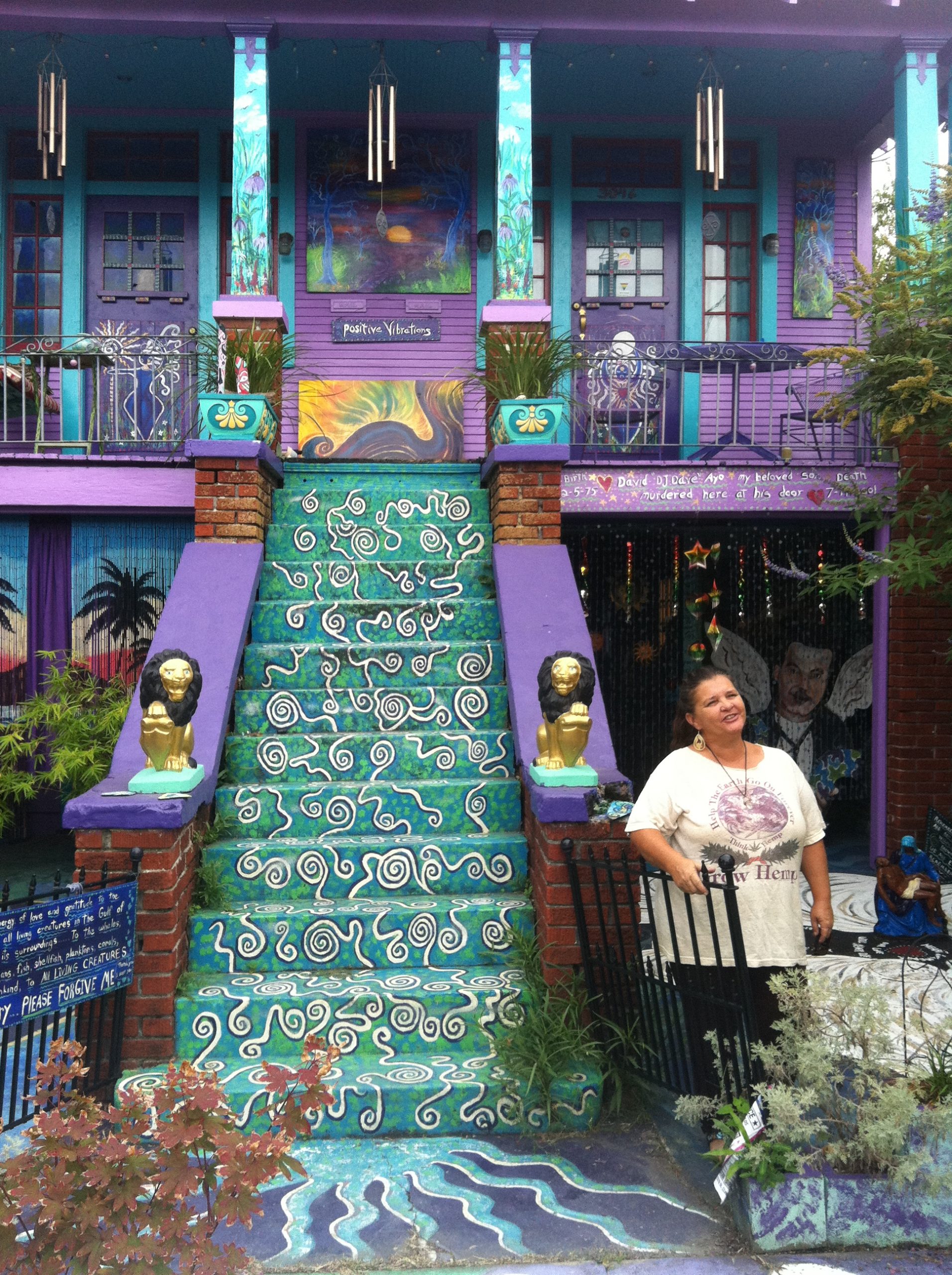 I suppose we all live in New Orleans because we "get" that it's a special place, full of unique people and a freedom of thought and expression thrive here, unlike anywhere else.
So when we speak of "living in a bubble," we are making a choice to focus attention on the joy and beauty of our daily lives, and agreeing, for the most part, to accept the imperfections as part of the charm.  We are making a deal with the devil, kind of, letting the badness exist in order for goodness to prevail.  We are getting a lot back from this arrangement, mostly joy.
And we owe it to everyone who walks the streets of New Orleans to give some of that back.   It's US who make it amazing, and we are required to shine.  After all, once we've created a beautiful space in our heads that we call our "bubble," we have to let it float outward and shine for others.
And that means YOU.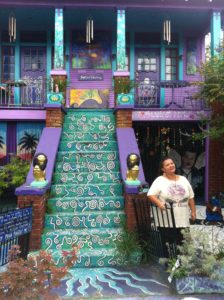 Do you see the picture of that crazy, whacky house in aquas and purples?   The owner of this house is, to me, a perfect example of the New Orleanian who finds grace and shares it.
Her son was killed.  He was in his twenties.   I don't know the details and didn't ask.
But I met this sweet soul on a walk through the Bywater one day, and she told me her story.  Full  of grief when her young son passed away, she began to paint things.   She began to speak to him through colors and light and prayers and hope for others… and her home was her canvas.
When you see this incredible space she has created, it takes your breath away.   Up the stairs, around the doors and windows, and even onto the sidewalks and up the trunks of the crepe myrtle trees… her sad reality takes flight and becomes a true beacon, a floating bubble, and a link to the spirit world.  And she shares it.
She could have done this inside the house.   She could have wallowed on canvas or paper.   She could have held this world of color and light in a shrine, in privacy, as she longed to do.  But instead, she sang this song out loud.  She gave it to all of us.
And we are richer, as neighbors, for what she has done.  And it isn't over.
Through sharing her inner journey, she found her way back to the world, which for her is New Orleans.  She has reconnected with those around her who stop to ask, "Why?"
So it is throughout the city.   So it can be throughout the neighborhoods, and often is.
The chandeliers pictured – I don't like them.  They are installed in every single room of our new home Uptown… and I've been begged by all the neighbors to PLEASE keep them in place.  Honor the home and its history.  Learn to love the overly-fussy detail of their faceted prisms and carved brass fixtures…  study and learn where they come from, and embrace the era that has passed and will never return.
So… the new house will somehow honor that decadent period in NOLA – probably the Roaring Twenties here were way better than anywhere else.  I just have to find out all about it and bring it back to life – turn those lights back on! – here and now, and add our family to the generations who have lived inside that particular sphere of light.
My niece, Jen, knows exactly how to do this.  My vintage girl loves all things that sparkle, and she lets the light reflect her youth and optimism even at work.  (Yes, she's working there).
Shine a light, friends.   We have an obligation to be amazing and special, just like NOLA.